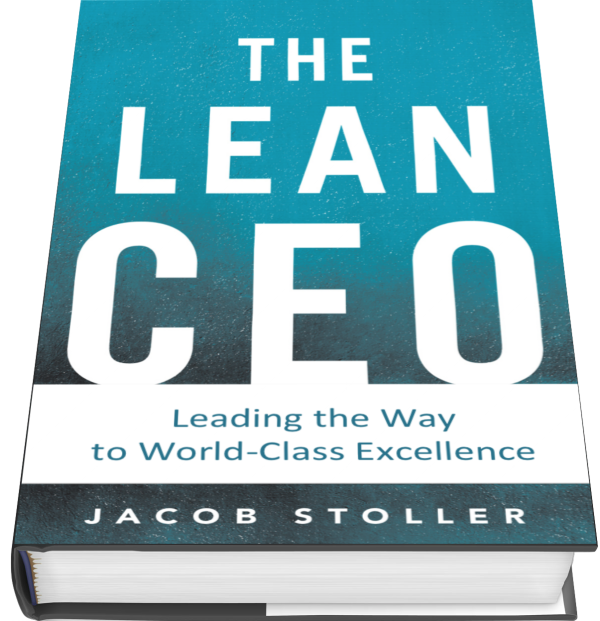 The Lean CEO explores enterprise-wide Lean adoption through in-depth interviews with some of the best known Lean-practicing CEOs. Readers learn first hand how these exceptional leaders applied Lean to boost profitability, empower employees, and forge closer bonds with customers and suppliers.
The Lean CEOs, who represent organizations from 50 to 50,000 employees, speak to readers inside and outside the Lean community. These are leaders who have diverged from conventional business practices and achieved remarkable results. Readers will gain new perspectives on problems such as global competition, fixing healthcare, addressing alienation and cynicism in the workplace, and putting businesses on a sustainable footing.
The book is organized around 10 major challenges that the CEOs faced when they began their Lean transformations:
A New Way Out Of Financial Crisis
Capacity Without Capital Expenditure
A Realistic Approach to Worker Motivation
Building Collaborative Management Teams
Putting People First
Building the Learning Organization
Integrating a Diversified Corporation
Reducing Dependence on the CEO
Solving the Cost / Quality Conundrum in Healthcare
Defining and Delivering Value in Government
As the stories demonstrate, Lean is a powerful delivery mechanism that applies real substance to these challenges. This isn't about leaders developing a new management style. It's about executing plans of action using the same methods that propelled Japan's stunning turnaround in the wake of World War II.
The narratives from the Lean CEOs are fresh, candid, and often provocative. They openly challenge many common business practices, such as standard cost accounting, top-down management, emphasis on batch sizes and economies of scale, and our obsession with computers. Their advice carries the authority of leaders who have followed an alternative path and delivered remarkable results.
The book is written for readers inside and outside of the Lean community. Lean practitioners and managers will find dozens of insights on how Lean efforts are perceived by senior managers, board members, customers, and suppliers. Those new to Lean will learn how Lean changes organizations, what those changes require, and about the many opportunities that Lean presents.
What readers are saying…
"Give this book to your CEO. It captures the passion, challenges, fun and impressive results achieved by pioneering Lean CEOs. Now you know what is involved, you can do so too."

Daniel T Jones, author of The Machine that Changed the World and Lean Thinking and Chairman of the Lean Enterprise Academy in the UK.
"What a triumph of a book on lean leadership—connecting the early history of lean and management theories with seminal examples of lean leaders and organizations in action!  This is a unique and compelling read which will serve to inspire and guide."
Amir Dan Rubin, President and CEO, Stanford Health Care, Stanford University
"Finally in this book we learn the lesson so often missed. Lean is a total enterprise approach to adaptation and prosperity that must be understood and owned by the CEO."
Jeffrey K Liker, Professor, University of Michigan and author of The Toyota Way
 "Few books get into the hearts and minds of successful CEOs like Stoller's does! Read this and learn what leading from the top truly means."
Karen Martin, President, The Karen Martin Group, and co-author, Value Stream Mapping
"A great book that applies not just to CEOs but to every leader. The Lean CEO spans the test of time, industries, and countries to hit home on the fundamentals of building a world-class organization. The steps are logical, practical, and well written in this easy to read, insightful book."
Doug Taylor, Vice President, Carlisle Operating System, Carlisle Companies Inc.
"The Lean CEO allows the reader to join executive leaders as they take you through their journey of learning.  Hear their lessons while they were knee-deep in the hands-on process of leadership, change, and implementation – with all the bumps, bruises, and successes along the way."
Jim Huntzinger, President and Founder, Lean Frontiers
"If you are about to embark on your Lean journey, or are already en route, Lean CEO is your travel guide. Why go on a trip without learning from the best of the best who have been there before you?"
Earll M. Murman, MIT Ford Professor of Engineering Emeritus, Co-author of Lean Enterprise Value: Insights from MIT's Lean Aerospace Initiative
"A must read, to grasp the spirit of real lean, as told by the first hand experience of exceptional lean leaders."
Michael Ballé, co-author of lean trilogy The Gold Mine, The Lean Manager and Lead With Respect